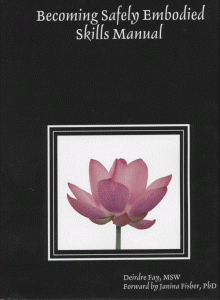 At a conference recently a box of 50 Becoming Safely Embodied Skills Manual was left under the table while the copies on the table went like hotcakes. The bookseller forgot that the extra box was underneath.
I knew nothing of this until the box arrived at my doorstep with a big apology note.
Well, the conference lost out but you can gain!
These are the older copies that I will gladly sell to you for $15 plus s/h. The content is pretty much the same as the newer versions, just the cover identifies it as the older edition.
First Come First Serve
I have only 50 of them and will send them out to whoever wants them. When they're gone, they're gone. Here's the paypal link to buy the BSE manual for $15 plus s/h ($5 in the US and $15 overseas.)