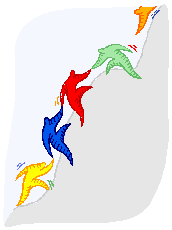 I received an email from someone who was in the workshop for clients in Scotland.  She's raising a question about being needy and how to contain that neediness.  In some ways her question is also about how do we "get rid" of this part — as if it's an offending part.  We certainly all know how "scary" being needy is.  It's rejected in our world as not a good feature.  Here's what I wrote in response to the question.  I wanted to share it with you all.  This whole topic needs a longer dialogue.  
Here's the thing.   We all need people.  Needing people is an important thing.  It's something to embrace.  The question always is which part of us is doing the needing?
When it's a young part and their needs are "leaking out" then we're not connected to ourselves inside.  When that happens the world seems to show up not wanting to meet that need, or shaming us somehow or making it all so much more complicated.
When we are there, befriending, acknowledging, understanding, caring about those needy parts of us who didn't get their needs met in the past, then there's a different experience that comes across outside of us.  It feels more "contained."  Other people respond because their inner world isn't feeling the pressure of the needy parts to fix them.  All this is done unconsciously.  The communication isn't rational or logical – it's reactive on both parts.
What we have to do is hold that "needy" part with love and offer it care.  We need to learn to listen to what it is needing from our grounded adult self, to offer it kindness, responding with goodness, understanding it's needs.  We don't have to fix the part's needs or change it but rather hold it with love.
That helps the "neediness" inside  feel less overwhelming both to ourselves and to others around us.
I want to hear from you all.  How do you deal with your "needy" parts?