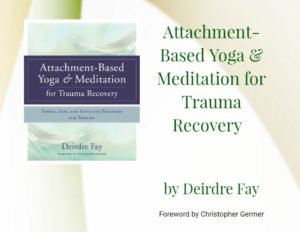 Thank you.
It's been remarkable to hear how people have resonated with my new book Attachment-Based Yoga & Meditation for Trauma Recovery.
I'm still shaking my head in surprise while learning to breathe in the goodness (thanks for teaching me how to take it in a little bit more!)

A few people have asked for a book study group.
I have been honored that people want to learn more and dive deeper into the book. I just didn't know what or how to do it. Not having any idea how to do that I did some research and noodled the idea around.
In order to join you'll need to have a copy of my new book since that's what we'll be studying!  Best place to buy for most people is Amazon

These were the constraints I played with:
 First and foremost I wanted the deep dive to be free, available to anyone who wanted to join. I wanted to find a way to say "thank you".  I wanted to walk a bit further with you on the journey. I hope this gives a way to do so.
Having a format that allowed peer to peer interaction felt really important. That cut out my on-line course platform which is great in many ways, but lacks an easy peer-to-peer format.
Doing the study group online seemed to make the most sense, so people could pop in and out when it worked for them, not confined to any particular time or day.
That felt especially important as I considered when to run the study group.  I've decided to start in the middle of June. Why then? When I looked at my schedule I realized it's the time when I have a bit of room in my schedule and it tends to be a time when others also have a bit of space (at least I hope that's the case!
Here's what I'm thinking:
When?  Start the middle of June and run for 7 weeks following one chapter a week

Where?  A private Facebook group (whereupon I fear I hear a groan or two, knowing many people don't like Facebook).  Here's the deal, though. Facebook allows a simple way for people to interact with each other, with no cost.

Fee?  Nope. None. Nada. Part of my wanting to use the Facebook platform is because there's no fee to start up the study group (well, there are minimal fees, but I can cover that.)

Content?  Every week I'll post some content from that week's chapter from the book. (Makes sense that we'll only be focusing and posting about the Attachment Based Yoga and Meditation for Trauma Recovery.)  Anyone in the group can post content and questions. The whole point is to start an inquiry and explore the conversation with each other to see what makes sense, what works, and if it doesn't work to find the next better steps forward.
Moderator?  That would be me, and those who have been in a training with me as they will have greater familiarity with the material.  Having a moderator is only to give some structure.
Purpose? To find ways for each person to open to greater possibilities of healing trauma and attachment wounds.
Want to join? 
Go to Facebook (this link should take you there. If it doesn't go to Facebook.com and search for <TAY Book Group>)
Click the <join> button. Since it's a private group I will need to "approve" each person – that's only to keep the group safe, secure, and private
Hate the thought of Facebook?  I know many who are, so I understand.  Here's how you can do it in way that works for many.
Open a Facebook account in a nickname
Send me an email with your real name and what nickname you're using so I don't admit "robots"
At which point you'll be free to post and comment as you like
Hope that's simple enough.  We'll start June 2nd, 2017 so take a moment and join now! We'll all be starting at the same time.
and remember…. you can do this at your own pace, at your own time.  It's a no-stress learning opportunity!